Learning to Walk Again – My First Feature (The Impersonators)
Post officially began the day before the production wrapped, which also means my sleep schedule has officially switched from iffy to erratic. Perhaps the toughest thing about having a creative side project for me is that I tend to work best on these things very late at night. That doesn't really mesh well with a day job you have to get up in the 5AM hour, but sleep is for the weak. That being said, prying yourself away so that everything else in life doesn't suffer is easier said that done.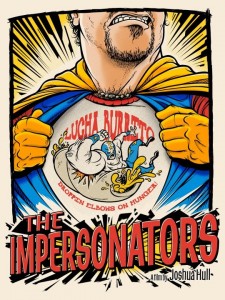 As I said in the first post, I chose Avid MC6 to cut this for a number of reasons, one of which is so that I can gain the same level of fluency I have in FCP7. Honestly, it's irritating when people tell me that Avid and FCP are "basically the same." That's just not true. Sure, editing is editing, but when you can't remember which button to hit to make the thingy move to the other thingy, there's nothing more frustrating. Creative flow is killed. Not to mention the way Avid handles media is a lot different. It's just a different mindset from start to finish, and you have to be careful or you could really mess things up.
Earlier this year, I started experimenting with remapping my FCP7 keyboard to include more Avid-y shortcuts (and some additional rearrangements I picked up from Scott Simmons). I had a hard time at first. When I got certified in FCP6, I had to memorize the default shortcuts, and those became the shortcuts I used on a daily basis. For better or for worse, I have a crazy muscle memory for these shortcuts. But I like working the "Avid way", so I switched my keyboard configuration.
I failed at this hard. It was too much. I switched back to my happy FCP7 defaults within hours.
I shared my failure with my friend and fellow editor Meaghan over brunch after Editfest. Among a plethora of great advice about a number of things, she suggested changing only a few keys each week to transition to a more effective layout.
Duh. It seems so simple. So I did just that. And guess what? It worked. I realized this last week when I opened up Premiere CS6. I don't use Premiere a whole lot, but I set it to the FCP7 default keyboard earlier this year when I upgraded from CS4. I was crippled! Success!
So basically, I've got mostly Avid shortcuts in FCP7, mostly FCP7 shortcuts in Premiere, and uh…Avid shortcuts in Avid with a few FCP7 holdovers. This is all very strange, and you better believe I carry every configuration with me or have it stored in my Dropbox for when I use another editing system. At this point I could probably adapt from one default to another pretty easily (except Premiere's original configuration which is weird) but it just bugs me when I can't work at maximum speed.
After nearly 4 years of using FCP7 on a daily basis for my full-time job, it's been hard to break my habits. Like learning to walk again. It's frustrating because you know you can and you've done it all before, you just need time and persistence and practice to get back up to speed. It's a long process of learning to walk again.
Anyway, keyboard shortcuts aside, I'm still acclimating back to the Avid way of life. I've been here before, but not on this scale. I've been learning boatloads about DNxHD, trying to sift through piles upon piles of opinions on the best way to handle media. I've been watching every each take and cross-referencing the script supervisor notes to skip over useless ones. The notes have been so accurate that my review has been super fast. In my notebook, I've been making notes on usable takes – which ones made me laugh, if there are reactions within shots that might be usable in other contexts, things like that. This week, I'll finish up with the assistant editor tasks and dig into a teaser trailer for the film. I'm getting really really excited about cutting this film. There are so many opportunities to apply what I've learned from top editors over the last year. The film was DP'd by David Brewer, and it looks amazing. There are some great comedic performances that are about to emerge. I can't wait to start putting scenes together. My day job edits have been piling on more than ever, so I've been spending more hours in my day staring at an NLE than anything else. Figures, feast or famine.
One thing I did outside of organization within the software is a notecard storyboard. I'm a really visual person (obviously) and I've always heard of editors doing this so I figured I'd give it a try. I was already referring to it before I'd finished with the dailies. It's definitely going to be a really helpful tool. Because I'm also a list-checker-offer, I plan on sticking a colored post-it on each scene when I finish cutting it, among other color coding. I love color coding. It will be motivational.
Now that I've talked all this about Avid, people that follow me on Twitter will know that I've been having massive issues getting this footage into the Avid at all. I believe I have a workaround – a crappy, long-winded one, but still – but I'll save that whole debacle for the next blog so I don't jinx myself.