Wedding Video: Thoughts, Advice, and Crowd Sourcing a Wedding Day
This past weekend, I was in the wedding of one of my favorite couples. We met in college when we all worked at the Zoo together (they actually started dating there) and stayed friends beyond into the real world. During my bridesmaid stint, I was thinking a lot about wedding videography. As a video producer/editor, I'm always (painfully) aware of the video being produced during a wedding, especially if I'm attending a wedding for someone I really care about. I want their videos to look amazing, almost at times jumping up and grabbing a camera or source material to edit it myself.
I guess you can call it half caring and half control freak.
Wedding video is not as widespread as wedding photography. Even as a video person myself, I don't consider wedding videography to be a priority. If you're working with a budget, I would always suggest putting more into still photography than video. In my opinion, weddings are more effectively captured one frame at a time. There's a romanticism you can only get in a single still frame that you can finesse and process to bring out the good qualities and hide the bad, and then over time, that's what you remember that moment as – perfection. With video, you have to have some great talent behind the camera to achieve that same feeling.
There are some amazing wedding video producers out there today, you just have to be prepared to toss a bit of money their way. And for what you get, it's a fantastic purchase. Wedding cinematography is gorgeous when it's done right, and provides you a keepsake that you'll probably actually go back and watch a few times.
The thing is…if you hire a wedding video company and pay like $500 for your video, it's probably not going to be this fantastic, romantic and flawless product. Great wedding videography is hard, and it's expensive.
Which leads me to my next thought – a wedding video company called Wedit. My friends chose this company to document their wedding day. The basic concept is that you are given 5 Flip cameras to distribute throughout your wedding.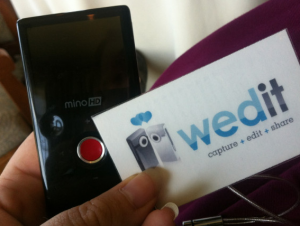 Your bridal party, you, and your guests are charged with documenting the entire wedding day or weekend. The cameras have little tags on them to remind people what kinds of shots they need to get. Then after the wedding is over, you mail the 5 cameras back to the company, they edit a wedding video from your footage, and post it along with all the raw files for download.
Now, I'm not really sure what I think about this. On one hand, it's a cool concept because your guests may know you better than a videographer, so you'll get more natural reactions and everyone is more comfortable around the camera. It's also really interesting to potentially have 5 angles from different and unique POVs at any given moment. If a regular wedding videographer shot everything on Flip cameras, handheld, you would slap them in the face. But because you set the expectation that these are all shot by guests and bridal party members, there is a level of acceptance for flaws in the video. It's closer to a documentary than a cinematic experience, which works because you aren't expecting any more from it. It's also relatively cheap – probably about as cheap as hiring a bad videographer.
But again, the expectations make it work better.
One downside is having 5 cameras to track and distribute. But the biggest downside, in my opinion, is putting the burden of recording the major moments onto your guests and bridal party. For our group, it wasn't a big deal because I always have a camera anyway. But I noticed during some of the reception events, there were people up and standing around, recording things instead of enjoying them. When you have a wedding reception, you sort of want your guests and everyone to relax and have fun, and this adds a burden of responsibility on them.
Another downside is making sure the big moments get proper coverage. With 5 cameras floating around, one person might want to actually enjoy a moment instead of capture it, thinking "oh, one of those other people is recording." Then nobody records it and you have no video of your first dance.
The biggest thing to remember is: with a service like Wedit, the success of your video is determined by the enthusiasm of those involved in your wedding. The video can only be as good as the footage captured.
I kept a camera with me the whole weekend and documented everything the way I'd want it if I were editing the video. I got loads of coverage – transitionary shots, establishing shots, closeups, reactions, nat sound, everything. And shots that are held long enough to actually use! I also got a ton of great pre-ceremony footage – the little nervous sighs, the mascara being applied, the gentle light in the readying room, the sparkle of the dress. I tend to think a lot of people that shoot these wouldn't get this stuff because they aren't used to telling a story with visuals, and that makes me wonder how these videos usually turn out. The very best moments of a wedding video are the little things you capture, the environment the people are in, and the care you take to making people look good (or reasonably good, there's only so much to be done with a Flip!) I hope the editor of this Wedit video does it justice, because I'm pretty sure you could edit a decent video out of just the stuff on my camera. And I hope the editor appreciates having b-roll for once.
I am a little concerned about the quality of the edit though. The service is only about $400. If you have 5 Flip cameras with 2 hours of runtime, you could potentially have 10 hours of footage to sort through. I'm guessing most weddings don't fill all 5 cameras (ours didn't, not even my 150+ shots), and the company relies upon this to turn things around and remain profitable. But even for $400, how can your video be devoted the proper amount of time needed to review footage, find all those great little moments, figure out where camera overlap occurs to multi cam it, and pull out a cohesive story? Needless to say, I have massive doubts on this.
If you're reading this, trying to consider if you want to try a crowd-sourced wedding video service like Wedit, or wedding video at all, I would just consider 1) if your guests and bridal party are the kind of creative people who will pitch in to shoot some video without being prodded, 2) what kind of wedding video you want (Is a guest POV, probably shaky camera all you wanted? Or do you want a theatrical wedding video with crane shots and dolly moves?) and 3) what kind of budget you have. Always put more budget into still photography – I'm begging you. Believe me as a video producer telling you this – you'll cherish still photos more than video, 99% of the time. Overall, I think Wedit is an interesting concept for the right group of people.
It's been interesting to see the evolution of wedding video. Now there are apps where you can upload pictures and video during the wedding to a central location, which takes the Flip out of the equation entirely. But it still comes down to the willingness of your group of friends and family to contribute. If it's important, it's always better to defer to a professional than to get disappointed.