An Oral History of My Illegal Internships
Whether by necessity or the evolution of a specific kind of culture, internships have emerged as a dominant "foot-in-the-door" for the post production industry. Among those internships, the unpaid variety tend to dominate in a way that is not seen in many other fields such as business and medicine. Sure, unpaid internships aren't exclusive to post production; however, for some reason we've collectively decided that the single biggest way to prove one's merit is by working in some capacity for free.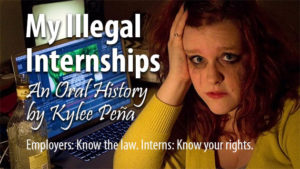 It's almost as if everyone believes that because they suffered the difficulty of doing often humiliating or degrading work for free, everyone else should too.